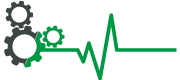 Farm monitoring
Farms become intelligent. A green revolution is in progress in the world of agriculture and smart farms are taking a leading role: efficient, innovative, dynamic and eco-friendly farms.
Thanks to technology such as sensors, big data and a platform with sophisticated algorithms and IT tools, Inpulse offers a monitoring system designed to diagnose the condition of the farm's buildings and systems.
With this data, Inpulse helps farmers increase the safety of their buildings (cellars, barns, animal shelters, silos, residential buildings, greenhouses, etc.) and create a benefit for their farm, collecting detailed data, which becomes an important asset for the farmer and those working in the agricultural and food sectors.
Offers new short-term earning and saving opportunities and contributes towards achieving sustainable agriculture.
The In.Farm platform makes it possible to monitor the farm constantly, measuring data such as smoke, flooding, air temperature and humidity, the temperature of liquids and power cuts originating from cellars, barns, stables, silos, residential buildings and greenhouses.
The fast, flexible and intuitive web application, accessible from a computer or tablet, always on hand and easy to configure.