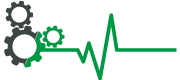 Management of agricultural, earth moving and logistics vehicles
InVehicle is a complete platform that is ideal for the management of Off-Highway vehicles, especially earth moving machinery and logistics vehicles.
Designed to be installed on OEM vehicles and for retrofit applications, Inpulse is aimed at the biggest manufacturers of slow-moving vehicles, with the aim of improving quality standards and developing technological innovation through process integration.
InVehicle offers a modular solution that adapts to every type of requirement, offering the utmost flexibility.
Remote vehicle management
InVehicle collects and manages an extremely high amount of data, enabling decisions to be made in an informed and safe manner. The use of Off-Highway vehicle telematics acts as a ready-to-use solution to improve the total cost of ownership, especially in sectors such as the mining industry, industrial construction and agricultural buildings and machinery, whether owned or rented.
Analyses critical data
Enables prompt measurement of usable data, detailed analysis and immediate feedback thanks to a hardware solution integrated with a suite of sensors
The ideal solution for new demands within the industry
Off-Highway vehicles need devices capable of bridging the gap between infrastructure's local and remote connectivity. The extensive network of intelligent sensors and control units supplied by InPulse offers clear benefits in terms of recording, sharing and protecting data compared to conventional systems. The solution significantly increases the amount of data and analyses available to users, fleet owners, OEMs and insurance companies; it offers greater security and a reduction in management costs in a sector that calls for greater efficiency, versatility and reliability
The control unit that reads and processes data from wired and wireless sensors and can connect to the CANBUS line of the vehicle on which it is fitted and to the cloud via a mobile network with integrated modem.
The fast, flexible and intuitive web application, accessible from a computer or tablet, always on hand and easy to configure.