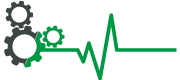 Online solution for the control and management of Off-Highway field and vehicles.
---
InPulse is an advanced OpenPlatform modular system that collects and processes a high amount of data for advanced management of the agricultural, construction and industry and goods handling sectors.
Greater security, greater efficiency and lower costs.
InPulse is composed of a comprehensive suite of intelligent sensors that collect data from fields, vehicles and tools, transmitting it to the control units, from which it is immediately sent by modem to the data centre for analysis.
The information, processed by the control units, is accessible via the dedicated platform or on-board instrumentation.